It starts with you deciding on which tour you want to go to. To help you with this decision we made a description of all our tours and added some weather info.
After you have made your choice, you send us an email (you can use the mail form on the contact page) telling us which tour and what date you are interested in and we will tell you whether this is possible or not. If it is not possible we will try to give you alternatives and which motorcycles are available for you to choose from. Note that this is only a preference. We'll try to give you the bike you like, but if everybody chooses the same bike, we will have to decide who gets which bike. For this we need to know: Your gender, experience with motorcycling, your approximate body size, weight and age. It's all in the mail form.
To book the tour you need to make a non refundable down payment of 10%. This can be done by bank transfer. The total payment must be made 6 weeks before the start date of the tour. You will receive the bank info when you book (see also our payment page). After you have a confirmation from us that you are in fact booked on the tour, you book a flight to Santa Cruz de la Sierra, Bolivia. Your arrival date should be the same as the tour start date, not later than 6 pm. If this is not possible you should arrive a day earlier.
There are 4 direct flights to Viru-Viru airport (VVI), Santa Cruz/ Bolivia and all offer Piece Concept with 2 x 23kg luggage:
From Miami with  BOA (Bolivia de Aviación) and American Airlines,
From Madrid with BOA and Air Europa.
You also should arrange a travel insurance with so called "adrenaline coverage". This covers mountaineering, parachute jumping and… motorcycle riding. If you have trouble finding one, check out  Squaremouth.com  or  World Nomads.com.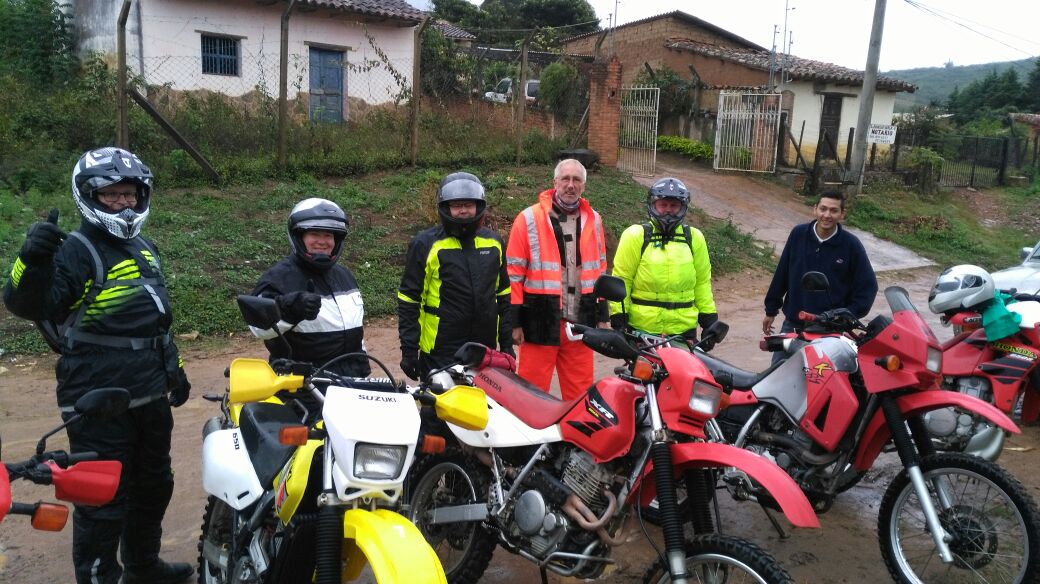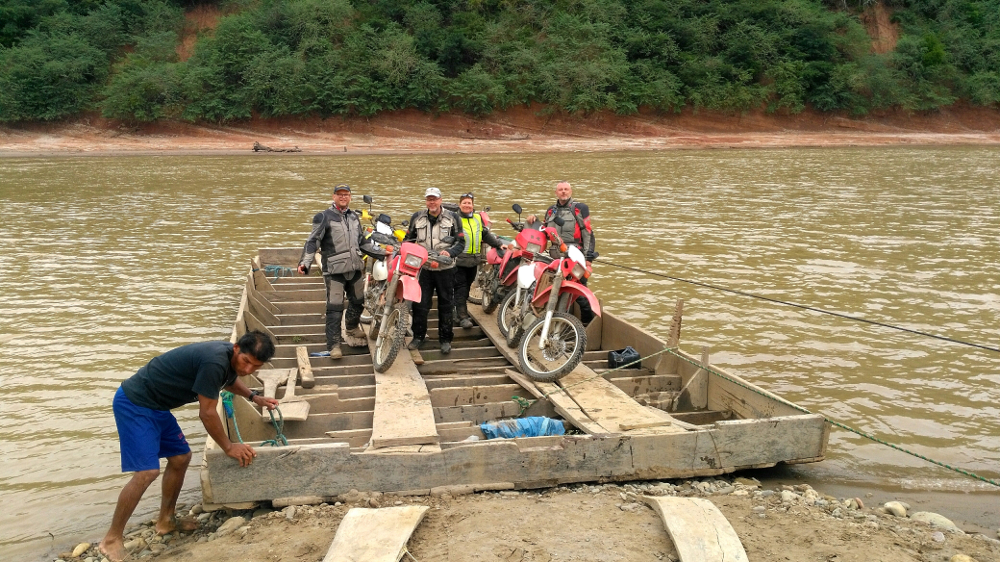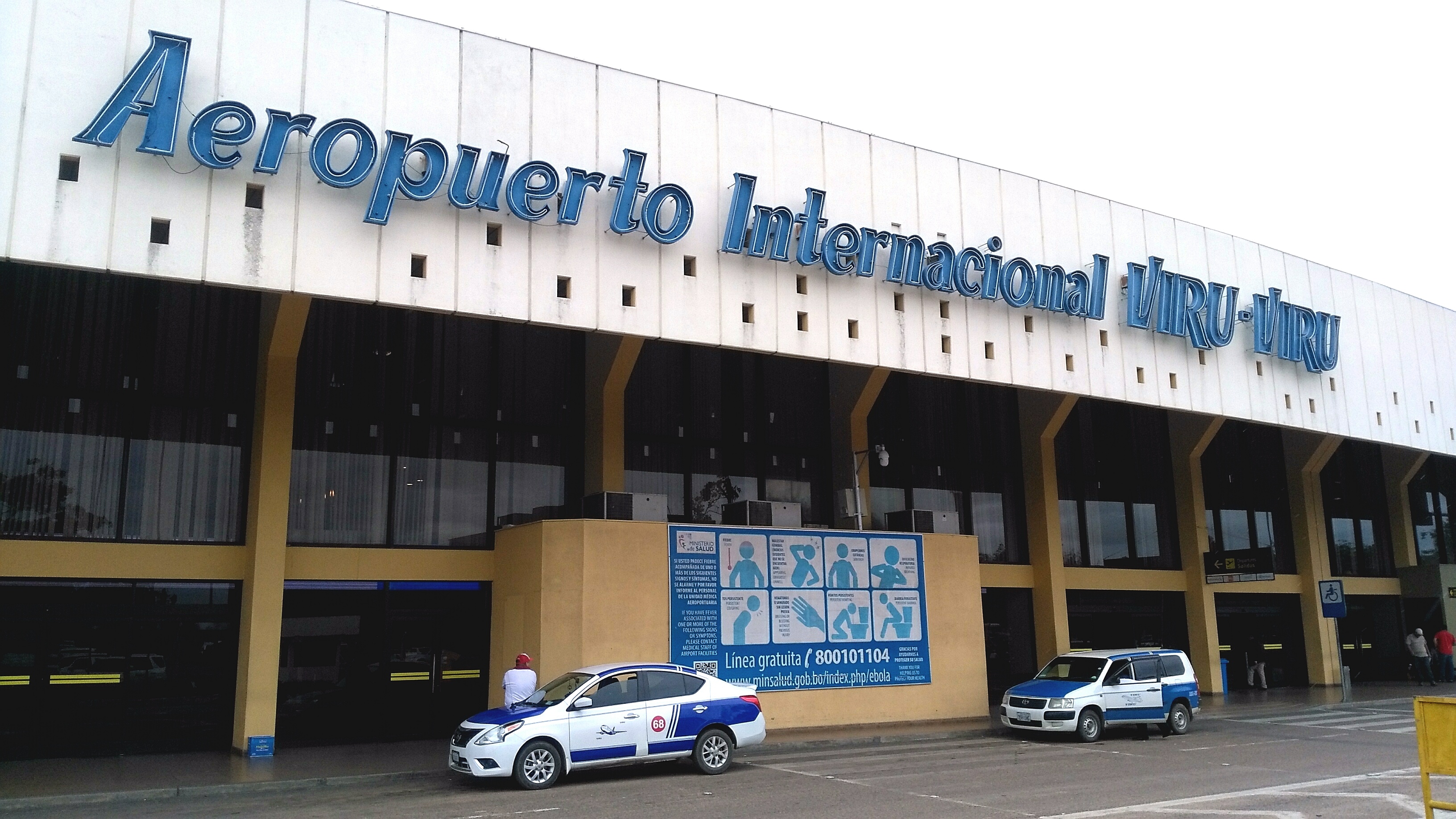 Notice the official white and blue aiport taxis
When you arrive you will be picked up from the airport by someone who has a big sign with our logo that says: "Bolivia Motorcycle Adventures".
Depending on the arrival time you go directly to our base in Samaipata or spend one night in Santa Cruz. If you spend the night in Santa Cruz the following day will be day 1.
If you arrive earlier we can make arrangements for you to be picked up or you can simply appear at the hotel we will arrange. We will let you know in advance.
On Day 2 of the tour we start with a briefing in which we tell you all about your safety, the traffic rules of Bolivia, our route and all other things you need to know. Driving safely at all time is our main consent.
Then we give you your bike and we'll go on a short trip to test it out.
Note that we only provide you with a motorcycle. You need to bring your own bike gear. A helmet is of course obligated, boots, pants, jacket and gloves… are requisite as well as a daypack for your daily needs.
The next day we set off for real.
Unless specifically mentioned otherwise, we spend the nights in hotels. We are always trying to mantain certain standards, like clean rooms, private bathrooms or hot showers, but this is Bolivia and not every hotel on our tour routes can live up this expectations and sometimes there just is no good option. In most of the hotels we stay since years.
The same goes for the restaurants. Never the less all food is included and will generally be very tasty, but again: This is Bolivia and sometimes there just is no good restaurant in the area.
The multi-language speaking guide usually rides up front. At the rear is the support 4WD car with the bike trailer, a mechanic, spare parts, medical material and for some tours a spare bike. If, for whatever reason, you can't or don't want to ride on, the assistance vehicle will pick you and your bike up. If you have a flat tire or other problem, just wait for the support car and soon your problems will be solved.
The front guide has a medical back ground and the rear guide is First Aid trained and they have all necessary stuff either in the daypack or in the assistance vehicle.
During the entire tour we try to maintain a good atmosphere in the group. This is why  our groups are never larger than 6 people, unless it is a custom group booking.
After several days of intense fun, adventures and relaxing, we will arrive back at our base in Samaipata, where we have to say goodbye to our bike.
The next day we will head for Santa Cruz with a few side trips and of course there will be a farewell dinner on our final evening in Bolivia.
On the last day we say goodbye and the arranged taxi will bring you to the airport, until we may meet again.
Off-road and safety training before each tour
We observed that interested riders don't dare to ride with us in Bolivia because they do not trust their driving skills.
On the other side we noticed that some riders prepared themselves by special and very expensive ex. BMW off-road- and BMW sand trainings before coming on a tour with us.
During the tour, we remarked that this kind of training are not very adapted to the Bolivian terrain. That's why we decided to offer an appropriate off-road training in combination with a Bolivia safety training.
During the training day, we will take time to practice different difficult situations like: Unpaved or stony roads, sandy soils, gravel roads, water crossings and give clear instructions on how to ride safely on the Bolivian roads, in village or cites with high traffic.
We offer this training before each tour (not before Mission Impossible tour) at the daily rental conditions.
Please contact us and plan your arrival for the day before the beginning of your tour.
The best way to explore Bolivia by motorcycle