Bolivia is perhaps the most spectacular yet un-discovered place one can ride in the Americas
Can you imagine riding a motorcycle through the spectacular roads of South America? Over the largest salt flat or the most dangerous road in the world? Swimming in a hot spring at 4,400 m altitude or climbing up to 5,800 m on a motorbike? Meet indigenous peoples and visit ancient temples? Cruising high mountain roads with breathtaking views or steaming tropical valleys with lazy rivers?
Do you? Well now you can experience all these adventures without the hassle of organizing everything or getting lost in remote areas like highlands, deserts or jungles.
All you have to do is choose one of our motorcycle tours, get on a plane and from the moment you arrive at the Santa Cruz, Bolivia airport until you leave, we take care of everything.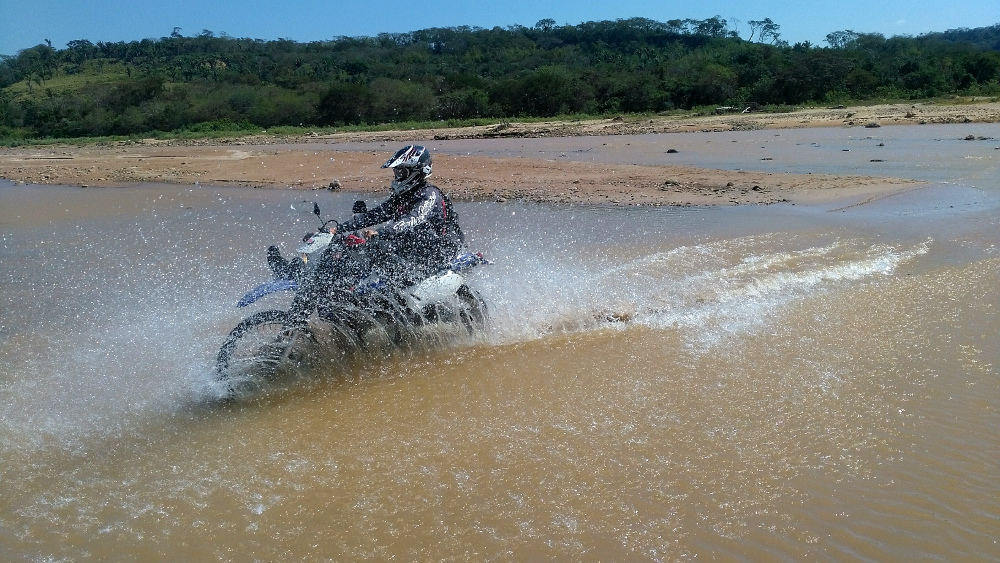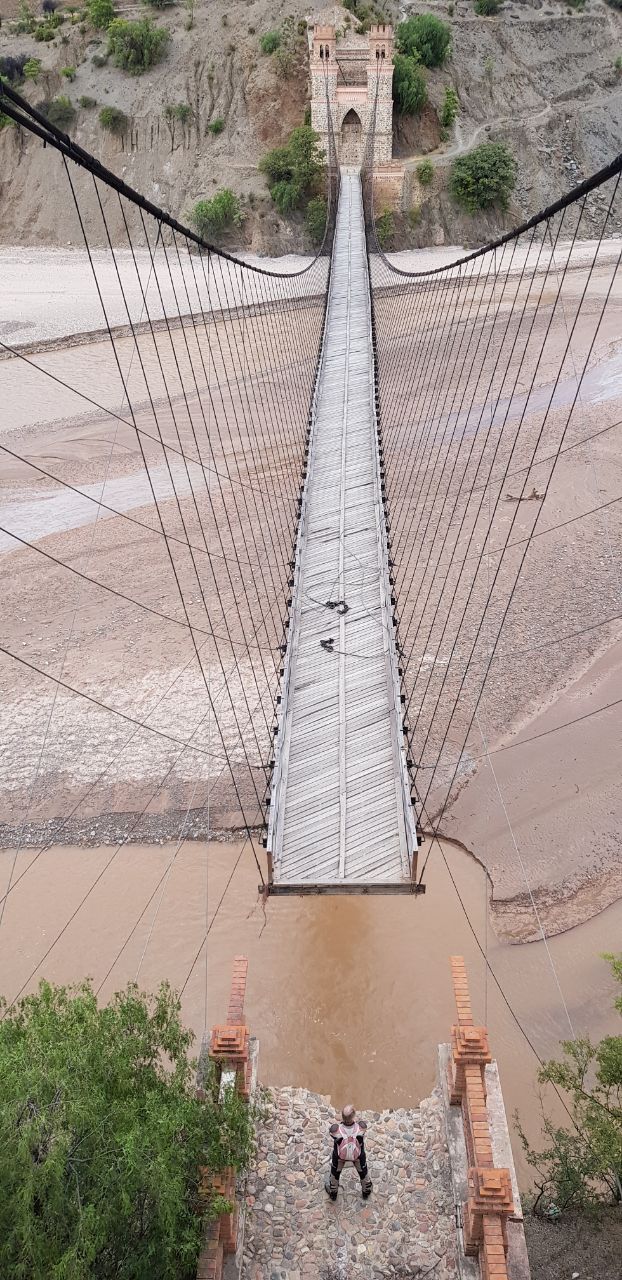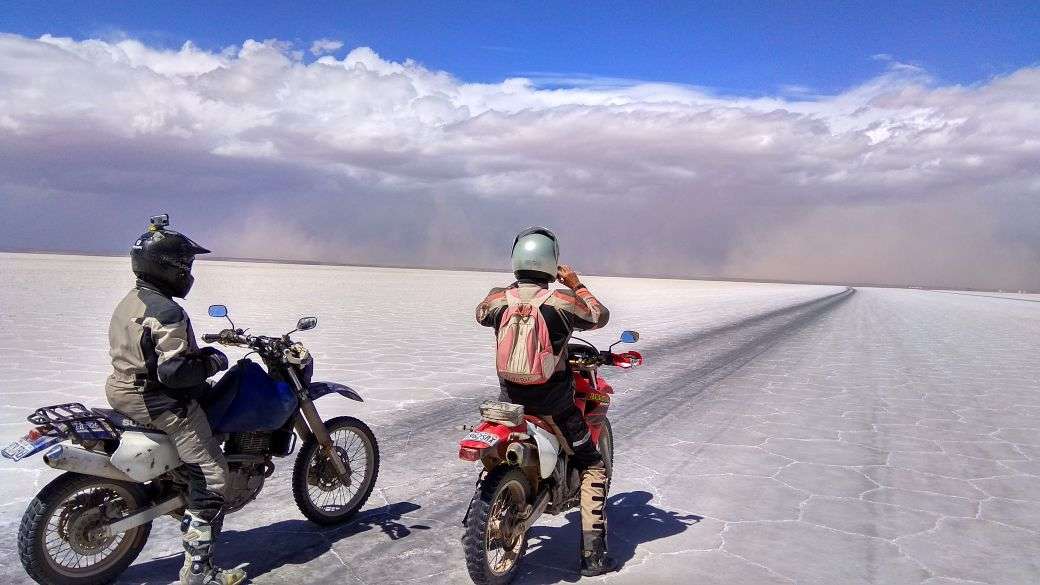 Ready for the great adventure…?
Since 2010 we are based in the village of Samaipata – the "Elbow of the Andes" – about 120 km/ 3 hours away from Santa Cruz. This is also the place where our bike adventures start, usually after a nice relaxed day to acclimatize and to get rid of the jetlag.
The guides are multilingual (Español, English, Français, Deutsch and others), medical trained and experienced motorcycle travellers. They have been living in Bolivia for several years so they know the culture, characteristics and geography like the back of their hand.
We have renewed our entire motorcycle fleet: The Suzuki DR650SE, model 2018 – 2024 is easy to handle, reliable and is lightweight in its class. For small, tall or overweight riders we have special modified versions.
We also offer travelling the mentioned tours or a custom route of your choice in one of our 4WD vehicles.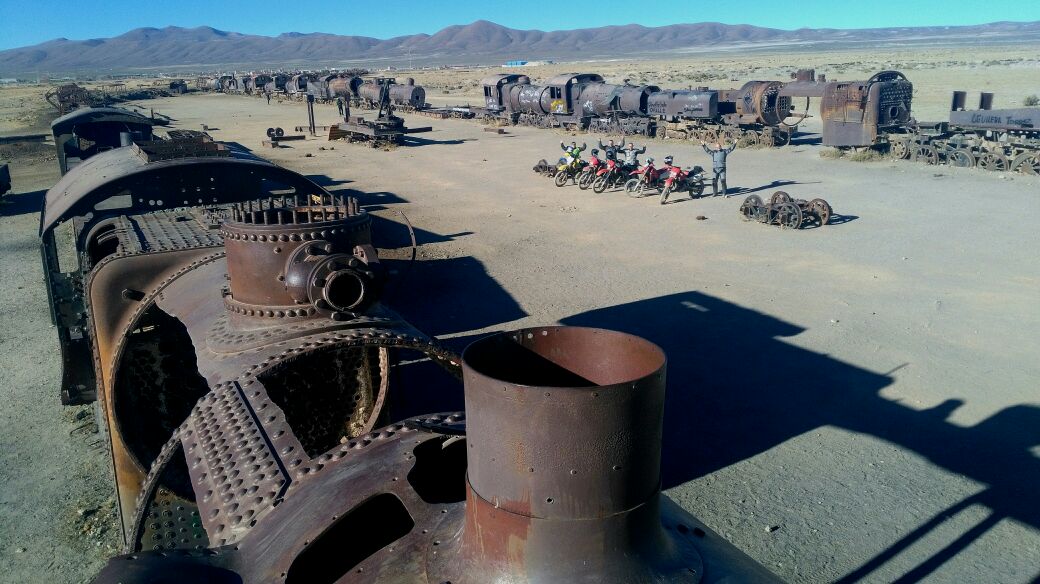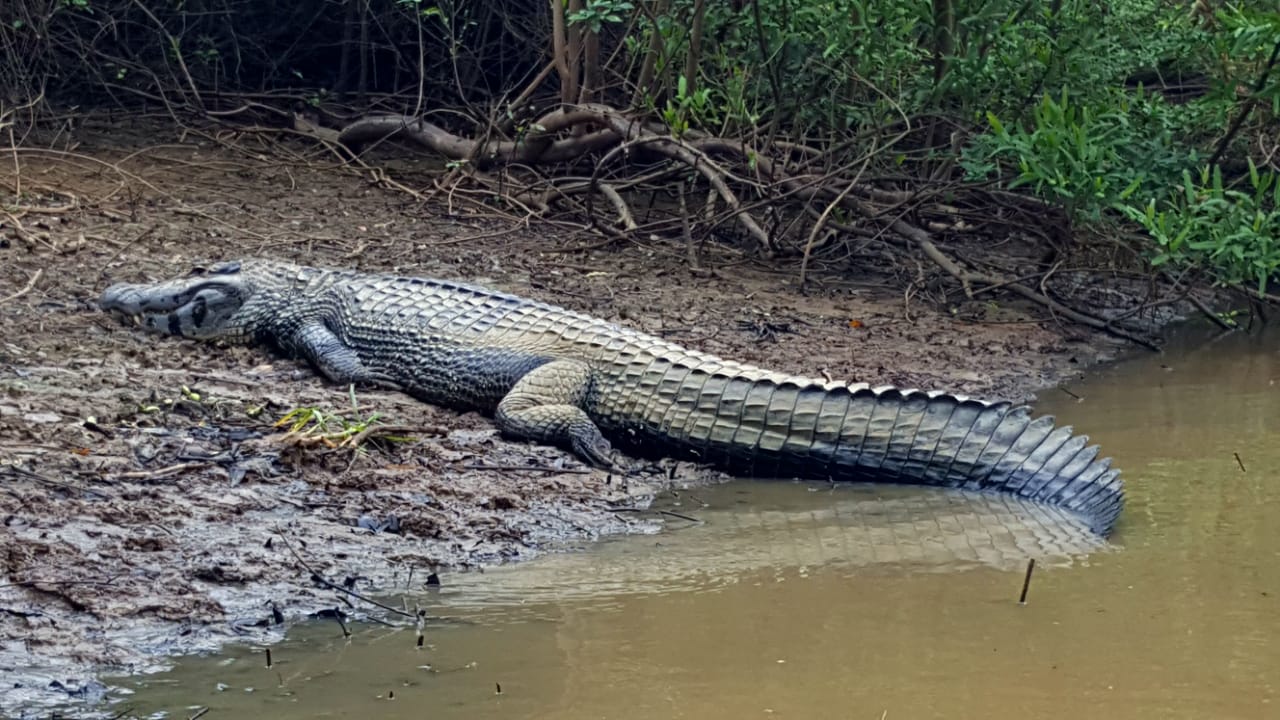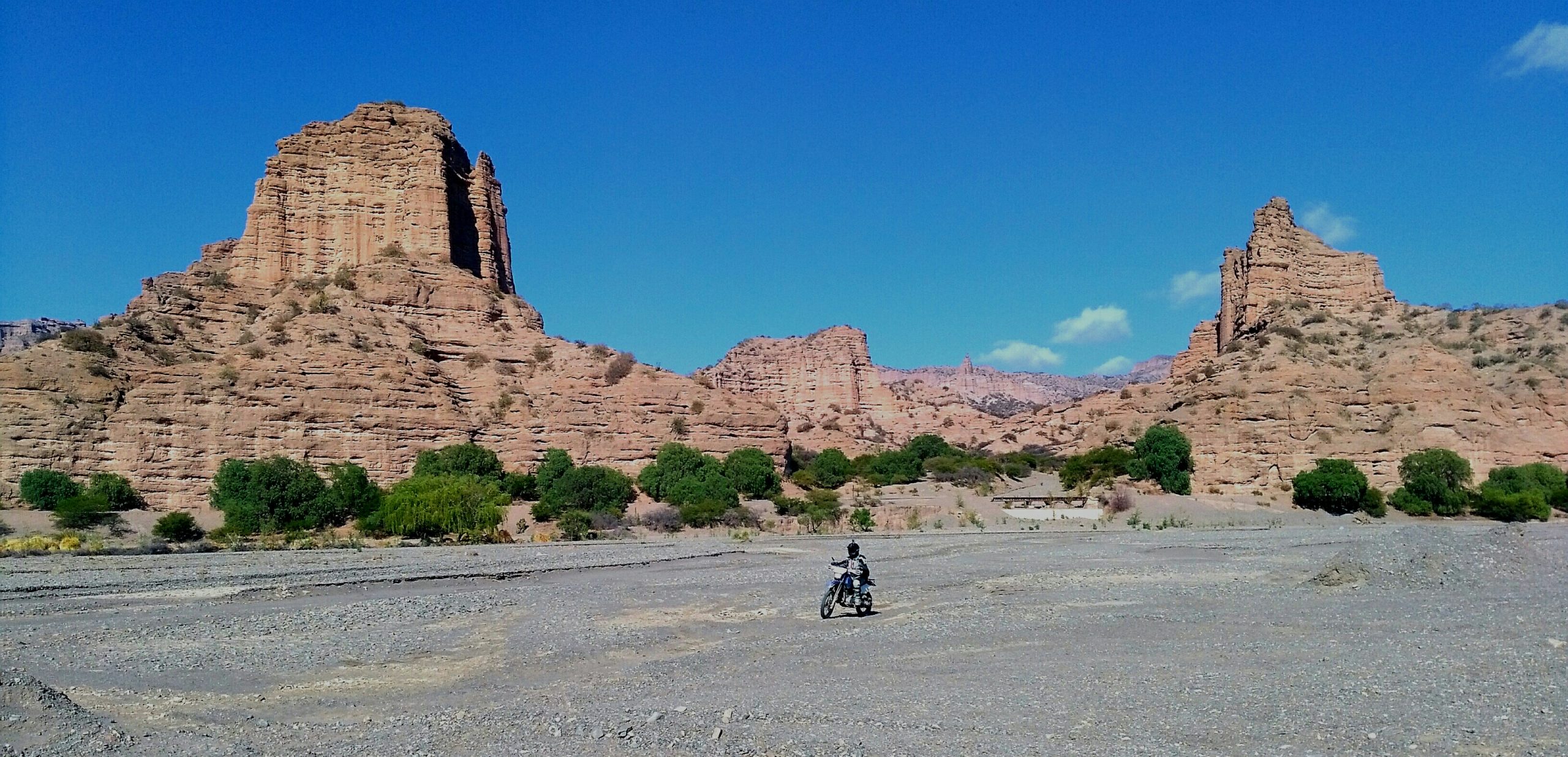 "We drove well-developed highways in a beautiful landscape, a whole day on the Salar de Uyuni salt flats, gravel roads in the Bolivian part of the Atacama Desert, the death road, were on Lake Titicaca and much more. I've been to Africa, Australia, and North America, but Bolivia has beaten everything."
Customer satisfaction is always a priority for us
Check what our guests says about BMA:
Based in the US, I have ridden thru a few countries in South America. Despite that Bolivia throws a lot more unique challenges your way. Rolandos outfit has it all figured out. Bike are meticulously maintained, routes are amazing, every hotel and meal is curated for safety and an authentic Bolivian experience. I would not ride Bolivia without these guys, and the safety of their chase truck/mechanic. I plan to go back again! 🙂
I enjoyed this tour a lot and this is coming from someone in his 4rth year on a South American motorcycle ride. Roland, the owner/guide and his assistant Yerson gave us a safe and enjoyable experience. I would recommend this tour without reservation.
Amit Fernandes
2023-09-24
BMA did an amazing job… 4 guys, 8 days on a custom highland tour. Great views, twisty roads, the surreal Salar de Uyuni, silver mines in Potosí, amazing meals and decent hotels in beautiful remote small towns in the highlands of Bolivia. Rolando took care of everything, the only thing we had to do was to have a great time riding motorcycles is this beautiful country.
Exciting!
When planning our dream trip to South America, we came across Bolivia Motorcycle Adventures. Contact via email and whatsapp with Roland, the person in charge always went smoothly and clearly. It gave us peace of mind to be able to consult with a 'local', who adapted a standard package to our wishes (custom WWW tour). This way we had a clear planning and agreements in advance and we knew what we were getting into. (airport pick-up, transfers, overnight stays, meals, visits,…) As 1200cc adventure riders we were a bit skeptical about the Suzuki DR, but after 1 day we were sold. It must be said, they are in perfect order and are very well maintained! At the end of the trip we realized that this bike is the perfect companion for this country and these conditions! In terms of overnight stays, we were able to taste everything, from hotel to local B&B… but this way we also got a better view of the 'Bolivian way of life'. Our guide, Roland, came across as a bit strict at the first meeting, but once he gets to know you, he will loosen up. He also emphasized safety a lot, but as the trip progressed we understood why and thanks to the clear agreements we never felt unsafe. Roland and Yerson, big thanks for this unforgettable experience! We really had a great time in Bolivia with you. greetings Bram, Julie, Dirk, Frederik
Wild wild west Tour März 2023. Roland hat uns "sein" Land gezeigt. Von den atemberaubenden High-Lands, über den Salar von Uyuni zurück durch die Low-Lands. Die Strecke hin war sehr abwechslungsreich in den Bergen mit ordentlich Off-Road Anteil. Die 1100km zurück waren eher langweilige Straße. Die Tour sollte meiner Meinung nach in umgekehrter Richtung und mit höherem Off-Road Anteil gefahren werden. Roland ist der Kümmerer: Er kümmert sich um das Wohl, das Essen, die Zimmer, die Motorräder, etc. aller Teilnehmer. Ein tolles Land, das er uns gezeigt hat.
Ilyich Fitzgerald
2023-04-09
We started out the motorcycle tour from the beautiful town of Saimapata and made our way to La Higuera over a 2 day period. Since I was on my own and only had 2 days, Roland tailored the tour specifically to make it work for the time I had. The bikes were amazing to ride and meticulously maintained. I had been riding for 20 years and so I was somewhat skeptical about the tour in terms of whether it was worth doing. That soon changed and I was amazed by Roland's in depth knowledge of the local area, the scenery, the adaptability of the bikes to various terrain and the overall experience. One of the best experiences I've ever had the pleasure of doing. Thank you Roland!
Hellen Scheres
2023-02-21
Guía con mucha experiencia, sabe más que la ruta, conoce la cultura y tiene buen contacto con los hoteleros en camino. Pro: buena experiencia médica. Motorcycle Diaries Tour, 6 dias, guía conocía a gente interesante para conocer más y muy buenos guías. Buenos consejos para principiantes en camino "dirtroad", se aprende muy rápido con Roland.
Wonderful 3 weeks we did spend with Rolando and Yerson !! Bolivia is one of the most beautiful countries i ever visited and with the great skills of our guides it became magic ... thanks guys for this amazing expierience
In June / July 2022 we enjoyed a ten day private tour with Rolando Felix from Bolivia Motorcycle Adventures. We = two boys, both early forties. Everything went as scheduled and we had no trouble at all, even no technical problems! Reason for us to travel with a guide; the time we wanted to travel was too short to find out everything on our own, not speaking Spanish. (I'f anything goes wrong you just cannot miss the days if you're just riding ten days. That could be different if you will travel three months or so.) Reason for us to plan a journey with BMA; reliable duet to good communication. The journey went as communicated with us, even the pick up at ViruViru Airport in the middle of the night was arranged. Thanx mr. Luis! I had a really good time in Bolivia, seeing the most beautiful things, experience the most extraordinary nature. I didn't feel unsafe, not once! I enjoyed the trip from the beginning till the last km's, and still enjoying the memories 😊 I cannot think of anything I would do differently if I would do it again. Thanx Rolando for the great experience and bringing us home safe.
I recently returned from a solo 18 day tour and had an incredible experience. Roland was very knowledgeable about the places we visited and he was able to customize the... read more trip and arrange tours based on my interests. He is a very friendly and approachable individual who seems to have personal connections with locals at each stop. We traveled on all kinds of roads, from congested city streets to deserted cattle paths. Even though I have been riding motorcycles for 20 years, Roland provided me with tips and tricks to help improve my skills. Bolivia Motorcycle Adventures is a well-organized company, and the safety of the riders clearly takes top priority. From the first day, Roland introduced me to locals as his friend and by the end of the trip, I had come to consider him a good friend also. This trip truly has something for everyone and I personally look forward to riding with Roland again in the future.
Paul B


May 1, 2021
Had an incredible custom individual tour with BMA! The Tour was very well organized even with the new difficulties due to Corona restrictions and motorcycles were in very good conditions... read more and specially adapted for the tour. Visited a lot of incredible non touristic places as well as the traditional touristic attractions. From thermal spring at 4400 meters to awesome dirt-road through beautiful canyons everything was included. We rode one part by following railways and visited mines at almost 5.000m altitude. I can only recommend the tour to people who want to know a Bolivia apart from the main tourist attractions. Roland is an awesome guide with a lot of experience and medical knowledge, and he knows all the roads and hidden paths, thanks a lot for the tour!
Michael F


September 1, 2020
Bolivien Nov.2021 - Hatten eine Super Reise vom Hochland und im Dschungel .
Mussten 1 Woche früher Abreisen ,wegen Blockaden im Land.
Haben aber fast alles gesehen und Roland hat das Super
... read more /> Organisiert.
ROLF A


November 23, 2021
UPDATES REVIEWS PHOTOS ABOUT 1 of 5 CALL DIRECTIONS SAVE WEBSITE camino a San Juan, Samaipata Map of bolivia motorcycle adventures Closes soon: 8PM ⋅ Opens 8AM Tue 67777277 Suggest... read more an edit QUESTIONS & ANSWERS Be the first to ask a question Know this place? Answer quick questions OK CLOSE 34+ Photos Add a photo HIGHLIGHTS Highly rated REVIEWS FROM THE WEB 4.5/5Facebook · 9 votes REVIEW SUMMARY 5 4 3 2 1 4.5 17 reviews samuel Jeffs samuel Jeffs-Edit 23 hours ago More Google reviews VIEW ALLPEOPLE ALSO SEARCH FOR Kaleidoscope Travel S.R.L. Kaleidoscope Travel S.R.L. 5.0 (4) Travel agency Michael Blendinger Nature Tours Michael Blendinger Nature Tours 4.0 (24) Tour operator Bolivia Motorcycle Tours Bolivia Motorcycle Tours 4.7 (18) Tour agency Hostal Andoriña Hostal Andoriña 4.5 (62) Lodging Vinos 1750 - Uvairenda Bodega y Viñedos Vinos 1750 ‑ Uvairenda Bodega... 4.8 I came to Bolivia with no concrete plans but hoping to see some of the country by motorbike. I met Roland in Samiapata after enquiring about tours shortly after this, I fell ill with fever and he kindly did a check up on me and gave me medical advice for free. There was no tours running at this time, but we came to an agreement to do an exploratory tour together to was discover new tour routes and he was flexible to my time restraints. The DR650's and great bikes and all of Bolivia motorcycle adventures bikes are all in good condition, safe and very well maintained. Riding and exploring northern parts of Bolivia was incredible, some roads were unknown even to locals it was the adventure I was looking for but I always felt as safe as it was possible to be especially in the knowledge that Roland has such a vast medical background. I enjoy learning how to chew coca leaves and about the cultural importance and medicinal aspects of it and it really helped with the affects of high altitude. 11 out of 10 !
Samo


July 1, 2019