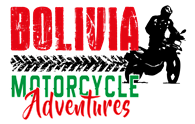 Bolivia Motorcycle Adventures
Ride your dreams...
The best way to explore Bolivia by motorcycle
Terms & Conditions
Tour operator
Bolivia Motorcycle Adventures is registered in Samaipata, Bolivia under business license Nr. 000177, Padron Nr. FRJ01873 as an "Agencia de Tourismo".
Its office are locales on: Casa El Barquito, Camino a San Juan del Rosario, Barrio Arriba, Samaipata, Santa Cruz, Bolivia.
Telephone: 00591-67777277, 00591-3-944-6716
Email: info@boliviamotorcycleadventures.com
Its activities are described on www.boliviamotorcycleadventures.com
Acceptance of these Terms and Conditions
All Riders should speak English or other international language.
By booking a tour with Bolivia Motorcycle Adventures you accept these Terms and Conditions as a binding contract between Bolivia Motorcycle Adventures and you, the participant. Please read these Terms and Conditions carefully.
Agents and representatives
Bolivia Motorcycle Adventures agents and representatives represent Bolivia Motorcycle Adventures but are not a party to this contract. Nor are they responsible or liable for failure to provide any service as may be described in our literature pertaining to the contract.
Bolivia Motorcycle Adventures reserves the right to bring guests, without notice on the tours.
Reservation, deposit, payment and cancellation policy
A non-refundable deposit of 10% is required at the time of booking. This deposit secures a place on the tour.
Final payment is due 6 weeks before the tour commences. If the total balance is not received 6 weeks before tour start, Bolivia Motorcycle Adventures reserves the right to treat this reservation as cancelled.
Bolivia Motorcycle Adventures does not refund payments in case the tour is cancelled by the participant.
The participant itself is responsible for obtaining adequate travel insurance which covers trip cancelation.
Motorcycle and insurance
Motorcycles are provided as part of the tour package. The type and make vary to fit the type of riding on each tour. The pictures of motorcycles on Bolivia Motorcycle Adventures promotional literature and website do not always represent the exact version of the motorcycles provided. Please ask if you need more detailed information.
Bolivia Motorcycle Adventures reserves the right to substitute the motorcycle confirmed to tour participants. The tour is not interrupted due to the inability of a participant to ride or for any other reason. During the tour Bolivia Motorcycle Adventures is not obliged to replace a damaged motorcycle.
Motorcycles provided by Bolivia Motorcycle Adventures have the obligatory SOAT insurance which, in the event of an accident, covers only basic medical expenses of the injured parties involved up to 3.500 USD per person.
Own motorcycle
When a participant brings their own motorcycle for use on the tour, no motorcycle insurance is provided by Bolivia Motorcycle Adventures.
Price of tour includes
The tour price includes: 650cc Dual Sport motorcycle with SOAT insurance, fuel, road tax and tolls, accommodation based on double occupancy, 3x daily meals, 3rd party tours and/or excursions as detailed in the itinerary, entrances, support/chase vehicle with guide/ mechanic, spare-parts, medical material and bike trailer, multi-lingual guide on motorcycle, airport transfers from Santa Cruz to Samaipata and vice versa.
Bolivia Motorcycle Adventures will not assume responsibility, compensation or liability in case if a tour participant chose another accommodation or restaurant than previewed into the tour program.
Price of tour does not include
The tour price does not include: Bolivia flight, alcoholic drinks, mini-bar, laundry service, traffic fines, activities on rest days and half rest days and other personal items not mentioned as included.
Room allocation
A limited number of single rooms are available at extra cost on a first come, first served basis but availability cannot be guaranteed. Bolivia Motorcycle Adventures will attempt to find a roommate for single/solo participants not specifying a single room on their booking. Participants that occupy a single room due to the unavailability of a roommate will not be charged the single room surcharge.
Luggage
Bolivia Motorcycle Adventures assumes no responsibility for loss, damage or delay in delivering luggage to tour participants. Luggage turned over to Bolivia Motorcycle Adventures for transport each day is done so at the participant's own risk. Luggage insurance is recommended. A maximum of one soft bag piece of luggage of approximately 60 liter, weighing 20 kg per person is accepted. Larger pieces of luggage will be stowed without protection in the bike trailer if the luggage-compartment is full.
Minimum tour participants
There is no minimum number of participants for standard tours. Each standard tour that is booked by at least 1 participant will be executed. For custom made tours there is a minimum of 3-4 participants, depends on the planned tour, unless specifically mentioned otherwise.
Tour cancellation
Bolivia Motorcycle Adventures has the right to cancel a tour in case of natural disasters, civil unrest or acts of war in the direct tour area.
In this case, the participants will be notified immediately and Bolivia Motorcycle Adventures will refund their payment in full, which will constitute the full settlement. Bolivia Motorcycle Adventures is not liable for any additional costs or losses incurred by the tour participant due to the cancellation of the tour. This includes, but is not limited to, the cost of pre-paid airline tickets and hotel reservations.
Tour alteration
Situations may arise, which, in our opinion, make it necessary for us to advance or postpone a scheduled tour, change itineraries or make substitutions regarding hotels, cities, tour guides and other travel arrangements. In that event, we do not assume responsibility or liability for any resulting losses, expenses or inconveniences. Bolivia Motorcycle Adventures is not required to make refunds once a tour commences regardless of the reason for participants being unable to complete his or her tour.
Some tours operate on a seasonal basis and where seasonal variances and/or weather conditions cause changes in the tour routing or accommodations, the itinerary will be adjusted accordingly and alternate hotels and roads will be used. Bolivia Motorcycle Adventures cannot be made liable for unpleasant or unsuitable weather conditions and no refunds are made for such conditions.
Non-observance of traffic laws, BMA´s safety procedures and group travel regulations
If a participant does not comply with traffic laws, Bolivia Motorcycle Adventures safety policy, guide´s indications or the requirements for group travel, the contract may be cancelled by Bolivia Motorcycle Adventures and the motorcycle secured.
Photographic and video material
Photographs and videos produced by Bolivia Motorcycle Adventures or its representatives concerning activities on tour are the property of Bolivia Motorcycle Adventures. The copyrights rest with Bolivia Motorcycle Adventures. Bolivia Motorcycle Adventures can use all of this material for advertising and marketing purposes, including images in which individual tour members can be recognized, without any charge from the tour member arising for Bolivia Motorcycle Adventures for this use of material.
Participants who tour incognito or do not wish to appear on published materials, should notify Bolivia Motorcycle Adventures before the tour starts.
Transports
Airport transfers are organized with 7-8 passengers minibuses by local taxi companies.
A maximum of 4 guests and their luggage can be comfortably accommodated. BMA has no influence on the specific model used.
Special excursions are made with local tour operators and their boats or off-road vehicles. The common boats are 9-seater and the most commonly used 4WD vehicles can accommodate 6 guests and their luggage.
For guests with special space requirements, it is possible to configure boats and 4WD vehicles individually for an additional charge.
Passport, visa, driving and health regulations
The participant is responsible for complying with above regulations and all consequences resulting from non-compliance.
Responsibility
Bolivia Motorcycle Adventures is responsible for providing the services listed in the tour description according to the local standard and the accurate description of services offered in its literature. Bolivia Motorcycle Adventures is responsible for conscientious travel preparations. Bolivia Motorcycle Adventures is not responsible or liable for any accidents. Furthermore, it is agreed and understood that the owners, operators and agents of this tour including Bolivia Motorcycle Adventures are not the guardians of any participant's safety and they, individually or collectively, cannot be held liable in any way for any occurrence in connection with the operation or the client's participation in connection with the tour, which might result in injury, death or other damage to the client, his property, or his family, heirs, or assigns. Bolivia Motorcycle Adventures is not responsible for any delays, changes in schedule or other conditions.
Bolivia Motorcycle Adventures is not responsible for consequences due to inappropriate bike gear.
Canceled participants for health problems, leave or giving up
Tour participants are requested to provide all medical or other information that may possibly influence the tour process in the personal information page of the Tour Contract. This information will be treated confidentially.
Bolivia Motorcycle Adventures is not liable for transports (participants and bikes), medical consultation, hospitalization, board and lodging, alternative program or any additional causing costs outside the normal tour program, resulting of any kind of inability of participants to continue the tour or tour stages (specially in low infrastructure areas).
If the tour process is compromised by an important number of canceled participants, Bolivia Motorcycle Adventures will coordinate the further whereabouts with the tour group before the tour continues.
Travel insurance
Bolivia Motorcycle Adventures recommends that all riders take out adequate travel insurance that covers: Health, accidents, juridical protection, damage, theft and trip cancellation.
Bolivia Motorcycle Adventures can advise you as to where a suitable insurance can be obtained, but bares no responsibility.
Liability
Bolivia Motorcycle Adventures will take all practicable steps to identify and minimize potential dangers. However the riders must respect BMA´s safety policies, follow the guide's instructions and observe the advice presented in the rider briefing. You the participant agree to release or indemnify Bolivia Motorcycle Adventures and our staff against any liability we incur to anyone else, resulting from your failure to follow our instructions and safety policies. We reserve the right to withdraw the motorcycle from any participant who in our opinion is likely to endanger themselves or others. We also reserve the right to cancel the tour agreement at any time if we become concerned for any reason for rider´s safety or that of any other person.
General terms of motorcycle use
The tour participant that uses a motorcycle supplied by Bolivia Motorcycle Adventures will be called the "Rider".
The rider will:
• Not operate the motorcycle, or permit it to be operated, while under the influence of alcohol or drugs.
• Respect Bolivia Motorcycle Adventures safety policies.
• "Ride normally".
• Respect group travel regulations.
• Follow guide´s instructions.
• Ride always in appropriate and "full" bike protection gear.
• Not permit any other person to ride the motorcycle.
• Take all reasonable care in handling and parking the motorcycle.
• Not allow a pillion (two-up) passenger unless specified in their booking.
• Notify Bolivia Motorcycle Adventures immediately when any significant damage occurs to the motorcycle whether or not it renders the motorcycle unrideable.
• Not operate the motorcycle, or permit it to be operated, in any race, speed test, rally or contest or to propel or tow any other vehicle.
• Not operate the motorcycle or permit it to be operated, in breach of any legislation of by laws relating to road traffic.
• Not allow anyone to perform any type of significant mechanical repair or work on the motorcycle beyond minor maintenance such as tightening cables, mirrors or bolts, unless they are a certified mechanic or approved by Bolivia Motorcycle Adventures.
The rider is liable to pay for:
• Any parking or traffic fines.
• The replacement cost of any lost or damaged keys, registration and/or insurance papers, license-plate.
• The full tour charge is applicable for the duration of the tour period despite any early return of the motorcycle and accessories at the discretion of the rider.
• Riders are responsible for material damage to the motorcycles. This includes, but is not limited to: All damage caused by falls, abnormal use, pothole damage, break-disc damage for unappropriated use, broken mirrors, brake- and clutch-levers, cosmetic damage such as dents and scratches, engine damage due to the lack of oil or coolant or neglected signs of mechanical failure.
• Riders are responsible for costs resulting from accidents not covered by the obligated SOAT insurance. These costs can include and are not limited to: Personal medical costs, medical costs of any injured parties, vehicle damage, vehicle transportation/towing, any legal costs that might arise.
• It is not clear in Bolivia how much alcohol constitutes "under the influence", therefore it is our policy not to consume any alcohol when there is still riding to be done.
• All charges under this clause are payable on demand.
Bolivia Motorcycle Adventures is liable for
• Supply the motorcycle in a safe and roadworthy condition.
• Provide no warranties to the rider in respect of the motorcycle or accessories and excludes all implied warranties.
• Accept no responsibility or liability, except for its obligations under the tour agreement, for any costs, expenses, damages (including any damages for loss of enjoyment) or any other liabilities resulting from any damage to the motorcycle or accessories (whether accidental or
otherwise), breakdown or any other failure of the motorcycle or accessories, irrespective of whether Bolivia Motorcycle Adventures was in any way negligent.
• Not be liable to the rider nor to anyone claiming through or under the rider for any indirect, special or consequential damages arising in any way out of any matter covered by the tour agreement.