19 Days  Level: Medium 2.300 km (by bike), 40% off-road     Price info
Bolivia really is a hidden gem among the South American nations and it has its visitors lots to offer on and off the motorcycle. If you like, a Wild West steeped in indigenous tradition, featuring breathtaking vistas and unique landscapes.
That sounds great? Well, it gets even better! We explore it all in our own pace with a small group of 6 to 8 like-minded female riders.
A unique experience on Suzuki DR 650 SEs (200's are available as well) that will be even more memorable through the joined effort and shared laughter.
To keep it an all female affair, you will be guided by Franziska. She is a seasoned motorcycle traveller and would love to show you around Bolivia.
The itinerary of the Wild West Ladies Tour is similar to the classic Wild Wild West Tour operated by Bolivia Motorcycle Adventures, but features an additional 2 days 4×4 excursion into the unique hight plateau desert.
Our tour starts in the quaint little village Samaipata roughly 120 km south-west of Santa Cruz. We continue riding the famous 'Ruta del Ché' through untouched rolling hills to the beautiful colonial capital Sucre. We head south to the famous Salar de Uyuni, a 'not to be missed' attraction and host to the Dakar Rally.
The whole time you will be in good hands, our team is not only taking care of your riding needs, they are also medically trained and carrying supplies for most problems that can occur on the road.
The next 2 days we swap the 2 wheels for a 4×4 and explore the unique landscapes of the high-plateau desert. An absolute memorable holiday experience.
Back on the bikes, we follow in the footsteps of the infamous bandits Butch Cassidy and the Sundance Kid and explore the spectacular mountains around Tupiza. In Tarija, the wine capital of Bolivia, you can enjoy a local creation after kicking some dirt on the way there. The last part of the journey is going along a notorious mountain road, treacherous for big vehicles, but no problem on the bikes. Keep your camera ready for some stunning vistas. In the end we follow the river Piraí back to Samaipata, where our adventure started two and a half unforgettable weeks laying behind us.
Highest pass: 4400m by bike, 5010m by 4×4 vehicle.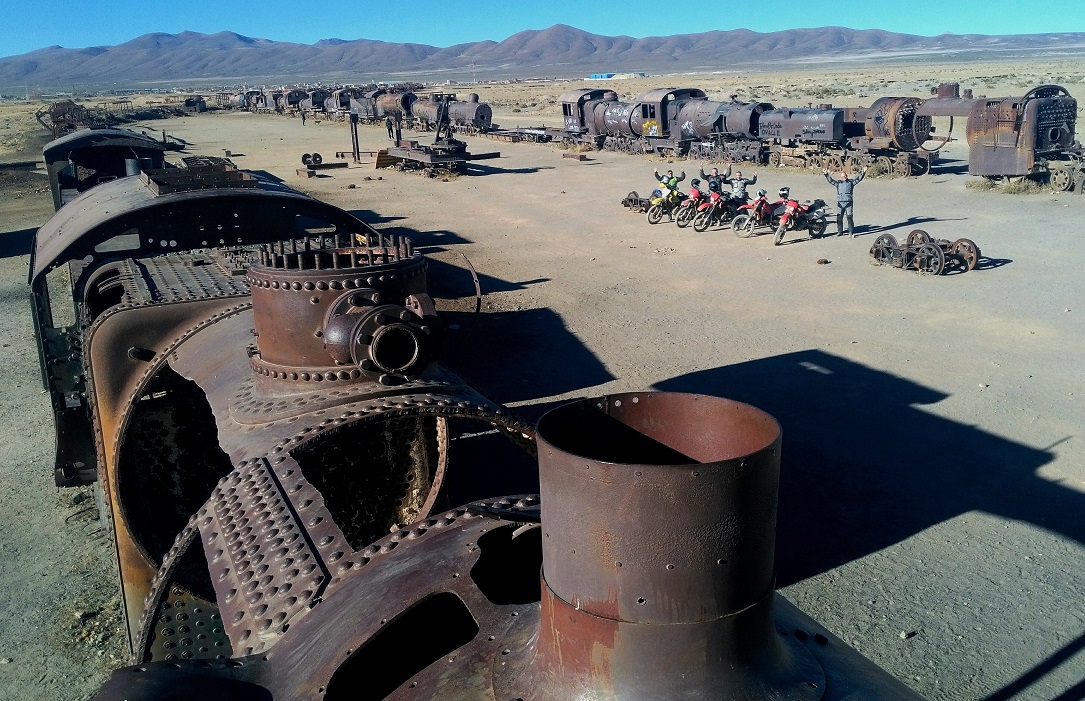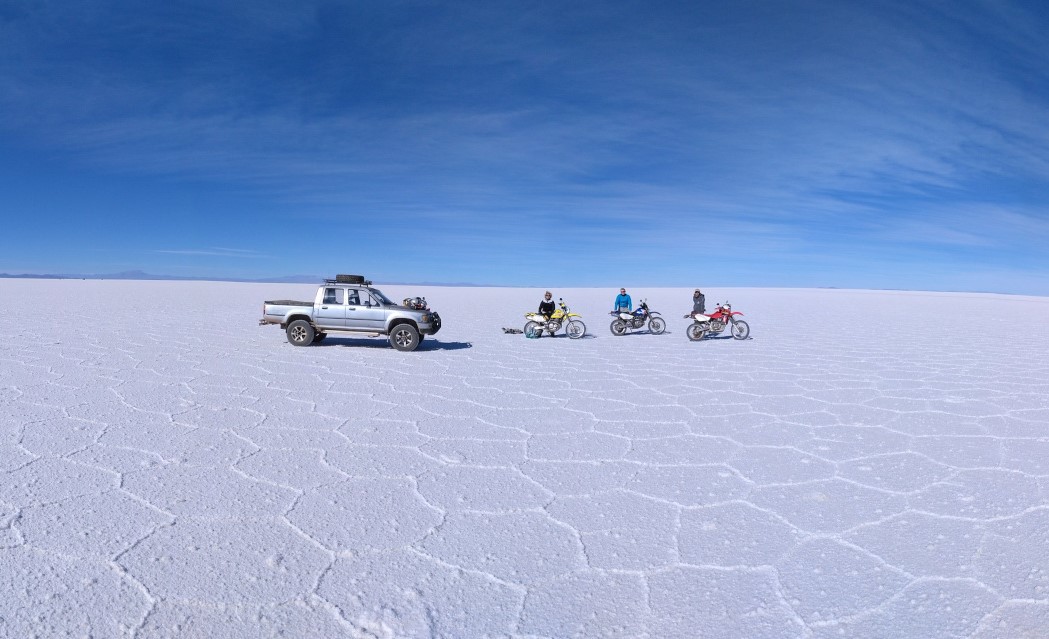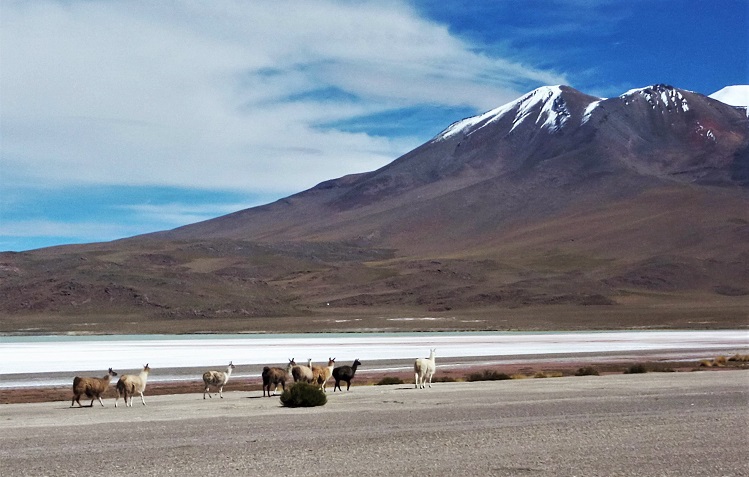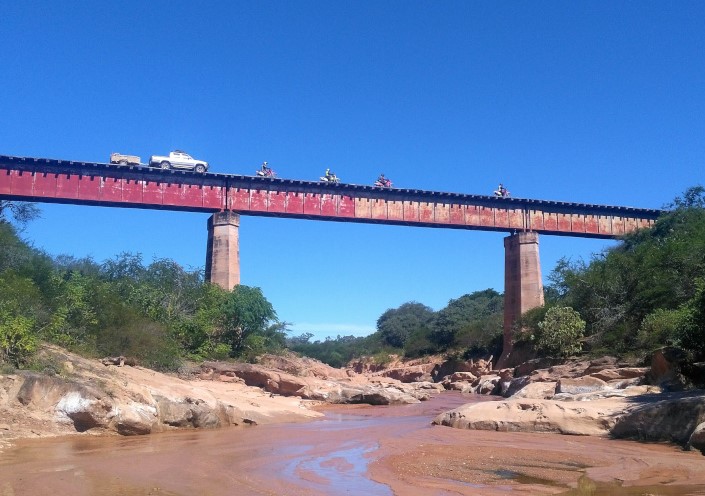 Day 7. The silver mines in Potosí
In the morning we visit the miner's market where we can buy anything, ranging from coca leave´s and dynamite. Here we have some time to look around and buy some interesting souvenirs.
Then we continue to the mines where we will get "geared up" and descend into the belly of "Pajcha Mama" (mother earth) to visit the 500 year old but still operational silver mine. This is not suitable for those who don't like small spaces or suffer from claustrofobia.
After lunch we visit the "Casa de la Moneda" (The mint house) museum. At one time every single coin used in the western world, was mined in Potosí.
Day 8. To Uyuni (alt. 3.700 m) 205 km, 5% off-road
Riding through incredible scenery we make a stop at a spectacular canyon, after passing some tiny villages we stop and have the option for an intrestresting exsperience. Along the road look out for for vicuña (family of camelids), emus and thousands of lamas. We arrive at the small mining village of Pulacayo. Here we walk around the ancient railway station, past the mine entrance and we can climb the train wagons which are the very same ones the American outlaws Butch Cassidy and The Sundance Kid arrived in when they came to Bolivia 110 years ago.
Next break is Uyuni where we visit the train grave yard, a fantastic collection of discarded railway machinary dating back to the 19th century. This includes at least a dozen steam locomotives. Perfect for photo shooting.
Day 9. Salar de Uyuni daytrip 195 km, 90% salt-road
The Salar de Uyuni is a dried up salt lake the size of a small country (11.000 km square). Since its the largest salt lake of the world and because there are only two colors blue sky and white salt, there is no visual perspective and we can take amazing photos (crazy photos with crazy bikers).
On our way to the cactus island "Inca Huasi", we visit the salt market, the flag monument, the salt hotel and of course the Dakar monument.
Day 10 & Day 11. In The Desert (Height between 3500 m and 5010 m)
For the next 2 days we swap the bikes for a 4×4. You can't be in this part of the planet and not visit the desert of the Altiplano, the high plateau. A unique and fascinating world that is worth discovering.
Because of the high altitude and the extremely difficult riding conditions, we choose 4×4 vehicles for transport. This way we can cover more ground in a short space of time, which means that you can see more and are much more relaxed when arriving at the spectacular sites. There are photo opportunities wherever we stop and the lagoons are home to hundreds or sometimes even thousands of flamingos. Furthermore, there are lamas, alpacas and vicuñas spotted regularly. Some of the highlights are the lagua colorada, laguna verde and árbol de piedra (stone tree, see picture). A holiday memory you also won't forget easily is the nightly display of uncountable stars, which is supported by the isolated location, clear skies and high altitude.
On the second day, still having a few stops on our list, we slowly make our way back to Uyuni, where we will arrive in the late afternoon to be reunited with our motorcycles.
Day 12. To Tupiza (Height 2950 m) Trip: 185 km, 20% off-road
In the morning we leave the salt dessert behind us and join the brand new asphalt road 21 to Tupiza. We will have an enjoyable ride through barren but nevertheless beautiful landscapes. The second half will have more mountains again.
Some might even say it is the Monument Valley of Bolivia. This comparison might be also due to the region's connection with the infamous bandits Butch Cassidy and the Sundance Kid, which raided the land in the beginning of last century and allegedly also found their end here.
Day 13. To Tarija (Height 1860 m) Trip: 230 km, 90% off-road
First we will follow the ruta 14 through jagged landscapes south of Tupiza before we change course north-east and continue the ride in the natural reserve of Cordillera of Sama. In the end we will be greeted by the biggest wine region in Bolivia with Tarija in it's center.
Day 14. Rest in Tarija (Height 1860 m)
Tarija is tranquil and very pretty. The perfect place to rest your bones after all the on and off road riding of the last few days. Cafes and restaurants invite you to have a brake. For those who would rather do something, you can visit the small but interesting paleontological museum, hosting some pretty unusual findings, or have a look at Casa Dorada and the Castillo Azul. The obvious choice is of course touring a local winery and sample some of their produce.
Day 15. To Villamontes (Height 390 m) Trip: 245 km, 20% off-road
This leg is rich in corners and leads from the hills around Tarija to the arid region El Chaco. A big part of the road is dreaded by many bus drivers as the most dangerous road in Bolivia (so much for the tourist attraction "Most Dangerous Road" near La Paz). However, on the motorcycles it is a different story and definitely an experience in itself.
Day 16. To Abapo (Height 445 m) Trip: 321 km, 10% off-road
After all the off road riding, it is great to feel some smooth asphalt under the wheels. The next part of the trip goes straight through the gas mining area in Bolivia. A small highlight is the ride over an abandoned railway bridge, which guarantees to get the adrenaline pumping.
Don't look down when crossing!
Day 17. To Samaipata (Height 1650 m) Trip: 206 km, 0% or 20% off-road (depending on weather conditions)
The last day of our adventure through Bolivia's Wild West will take us over some sandy trails or a tarmacked road along the river Piraí back to Samaipata, where everything started. As hard as it will be, now it is time to hand the motorcycles over, and what will be left are all the fantastic memories from the last few weeks. Those are shared best with an ice-cold beer in hand and with your fellow riders.
Day 18. To Santa Cruz
Late in the morning, we will set off for Santa Cruz where we can relax, hang out at the plaza or do some last-minute souvenir shopping. In the evening, we come together for a last time to enjoy our farewell dinner.
Day 19. Departure Day/ to the airport
Now, you really have to leave! We will transport all participants to VVI Santa Cruz airport, where you will catch your flights home.
And if you enjoyed your stay, you are always be welcomed to discover the rest of Bolivia!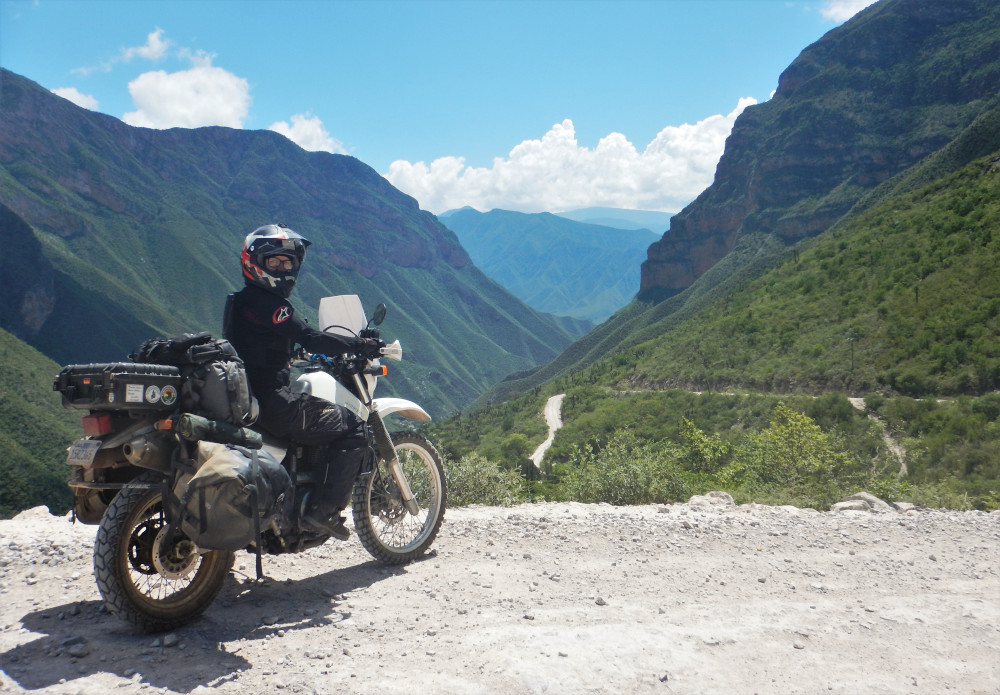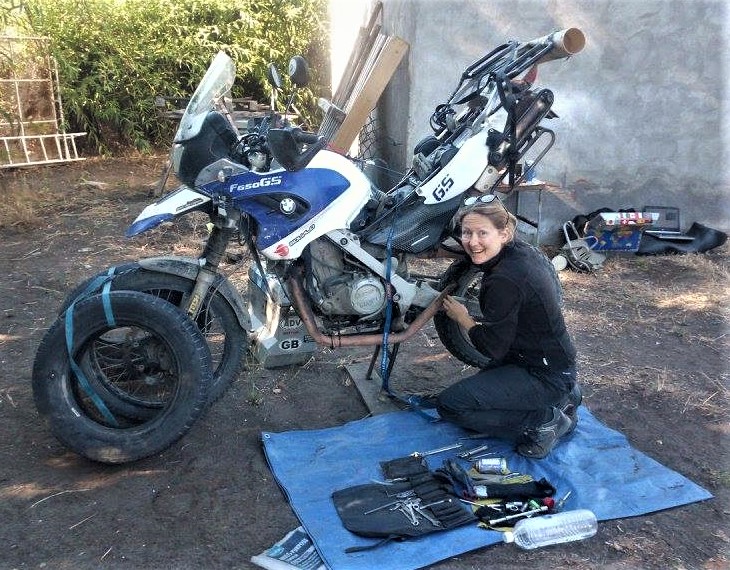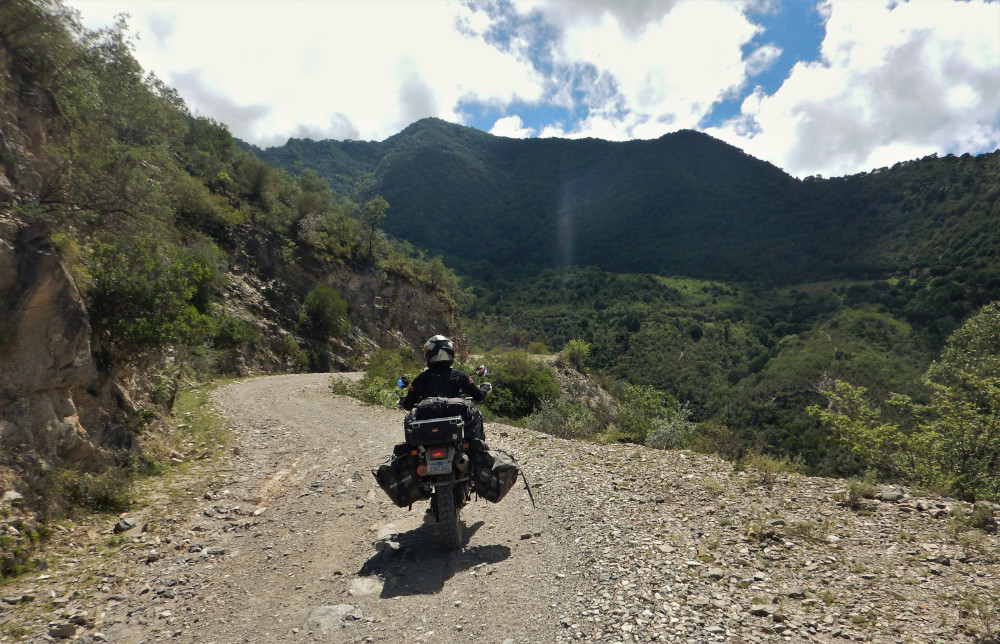 Day 1. Arrival Day
We will organize the transport from Santa Cruz to Samaipata (120km, roughly 3 hrs). Collection will be either from your hotel or directly from the airport. With presumably different pick-up locations, there might be waiting times for some.
Day 2. Samaipata (Height 1650 m)
We spend the first day in the picturesque village Samaipata, a great place to find ones footing on terra nova. We will give you an introduction about road safety, local traffic rules, information regarding the route and we will have time to get to know each other.
Afterwards we do a short ride to the archaeological site 'El Fuerte', which belongs now to the UNESCO world heritage. For some it is an unsolved historical puzzle for others it is, without a doubt, a Alien landing site. You can decide for yourself. However, it is a great opportunity to get familiar with the motorcycles.
Day 3. To La Higuera  (alt. 1.900 m)  175 km, 50% off-road
Leaving early in the morning, we stop in Vallegrande to visit the hospital´s laundry building, where revolutionary hero Ernesto Ché Guevara´s lifeless body was first presented to the world in 1967.
After lunch, we continue our ride towards the tiny mountain village of La Higuera, the place where the Ché was captured and executed. On the road its possible to observe condors, the world biggest bird.
Before arriving at the hotel in La Higuera we have the option to detour on a special ride to a fantastic view.
In the evening around the campfire in the courtyard of our hotel, we listen to Don Juan's experiences from the time of the guerrilla war.
Day 4. To Villa Serrano (alt. 2.100 m) 120 km, 100% off-road
After visiting the historic school building where Ché Guevara was executed and the related sites, we leave towards Villa Serrano. On the suspension bridge over the Rio Grande we have a snack stop and if the conditions are good and the water level is safe, we can go for a swim.
In the aftenoon we arrive in Villa Serrano, Bolivia's capital of charango music. It´s a kind of a small, double 5 strings guitar, very difficult to play.
Day 5. To Sucre   (alt. 2.700 m)  190 km, 30% off-road
We leave Villa Serrano early in the morning so we can visit the Tarabuco Sunday market. This is the only place in Bolivia where we can take photos of traditionally dressed indigenous people without them turning away.
After lunch we continue to Sucre the capital of Bolivia. The rest of the afternoon and evening is for exploring this beautiful colonial city. The entire city center is painted white and is classified as a World Heritage site by UNESCO.
Day 6. To Potosí (alt. 4.100 m) 155 km, 10% off-road
We leave Sucre after lunch. On smooth tarmac we start to climb towards the altiplano (higland planes) we stop and visit a strange monumental bridge. Then onwards to the mining city of Potosí which sits at 4.100 m altitude making it the the highest city in the world and also classified Word Heritage by UNESCO. During the ascent, the guides will give us instructions about to deal with altitude sickness.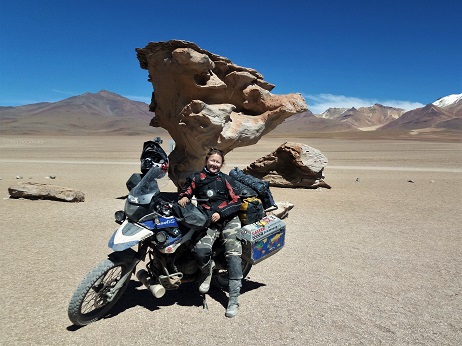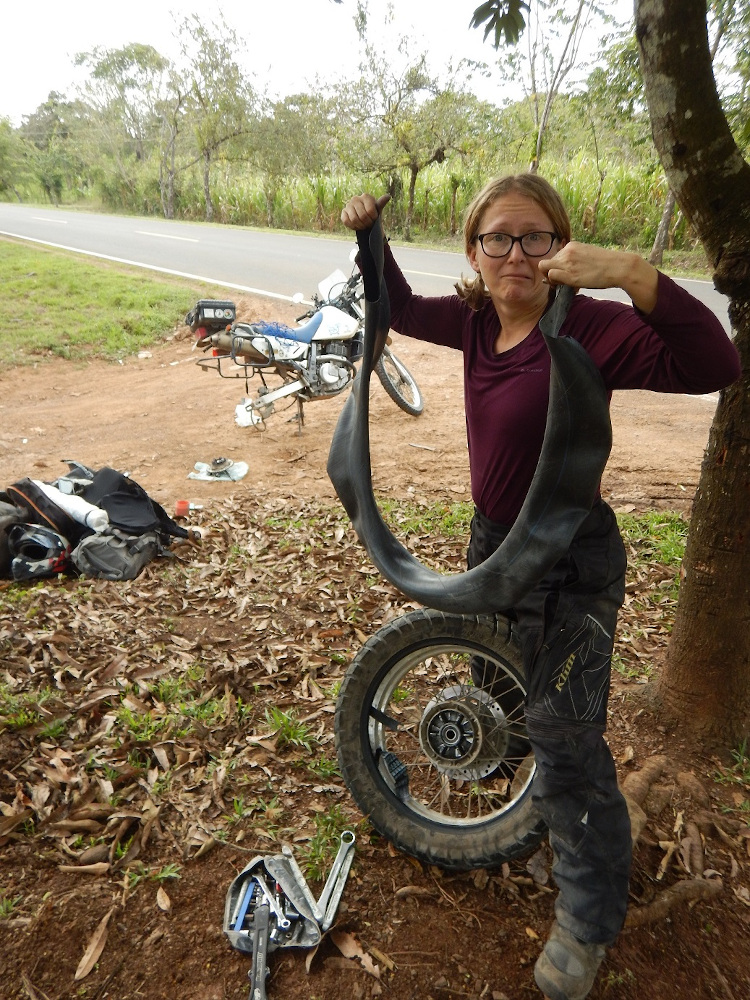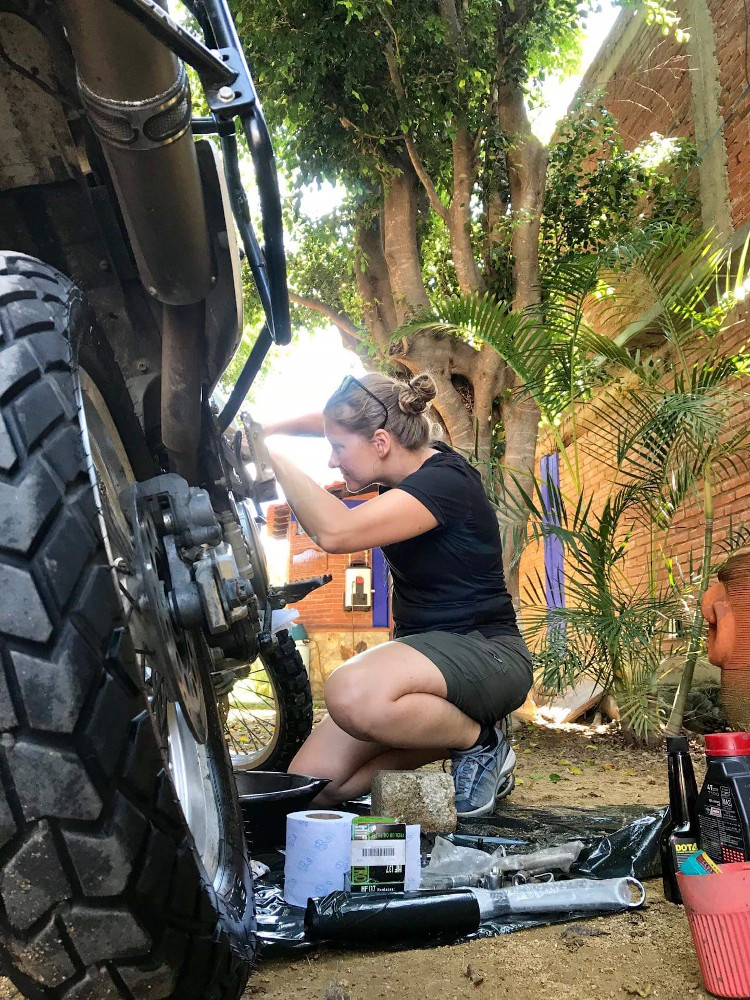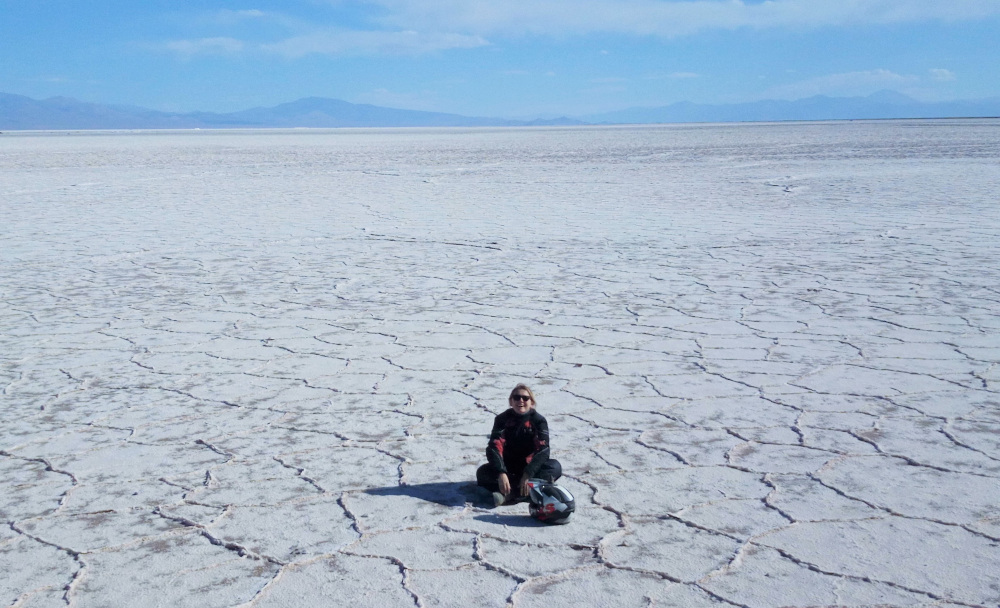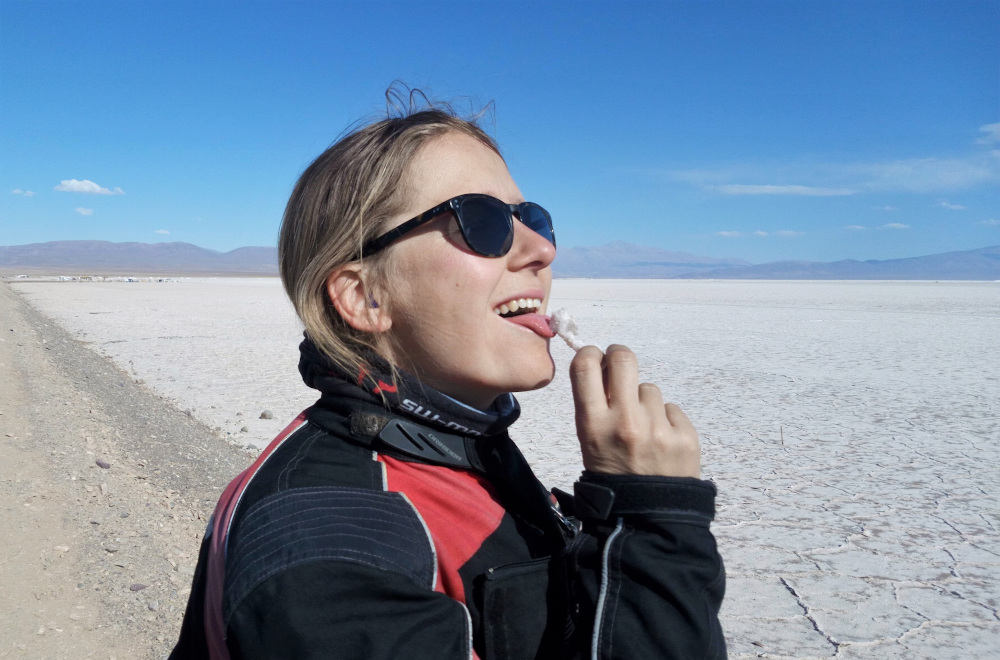 Your tour guide: Franziska Jenetzky,
in cooperation with Bolivia Motorcycle Adventures.
Motorcycles and traveling are the two big passions of my life and both joined together are unbeatable.
Therefore I have explored parts of 4 continents and one subcontinent on motorcycles. The last 3 years I have spent in Central and South America. Among others I spent multiple months in Bolivia, which is one of the best countries to explore on a bike. The landscapes are breathtakingly beautiful and diverse, while the country still possesses a certain wild, unpolished edge and from a rider's point of view, you won't be disappointed! All in all it is an once-in-a-lifetime experience that you will remember in years to come.
And this I would love to share with a group of like-minded female riders. I hope I see you on board.
If you have any questions regarding the tour please feel free to get in touch with me:
E-mail: fjenetzky@yahoo.de
Facebook: HerRoadStories
Instagram: herroadstories
The best way to explore Bolivia by motorcycle